As Christmas looms ever closer (only 6 days away now!), I find myself scouring the internet for special deals for items that I think my girls would enjoy. My tween daughters are head over heels for bath and beauty products, so that's the plan for their stocking stuffers. We're not rolling in extra money, so my goal for this Christmas was to save as much money as possible… and that's where Eden Fantasys comes in.
Eden Fantasys is generally known for their wide selection of sex toys for women and men, but they also have awesome bath and beauty items, perfect for Christmas stocking stuffers for tweens. There are lotions, massage candles, sugar scrubs and shower gel, in beautiful colors and scents. It's pretty easy to find something for everyone who loves to pamper themselves!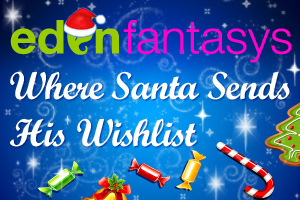 Addah's favorite color is orange and her favorite scent is vanilla, so I saw the perfect gift for her as soon as I hit the Eden Fantasys website. Cake Beauty's "It's a Slice" bath and shower froth and milk made bath bubbles and body butter are right up Addah's alley, and luckily for me, Eden Fantasys is having a sale for 20% off any 3 Cake Beauty products. Not too shabby, if I do say so myself!
Lakin was a little harder to shop for, mainly because I waited too long to do my Christmas shopping and a lot of the things she would have loved the best were out of stock for now. I did find a pomegranate raspberry lip balm that she will adore, and an eye shadow kit that has very light shades, so she can feel grown-up without looking like she's wearing make-up. I'm really not a fan of make-up at all, but she is insistent that "all the girls wear it", so I think this is a safe compromise.
All in all, I'm happy with what I was able to find for my girls at
Eden Fantasys
, and I think they'll be thrilled with their gifts. If you happen to be shopping for an adult, you will have so many more options — you won't have to worry about whether or not the items you're purchasing have words like "sensual" or "sexy" on them, like I did!
The following two tabs change content below.
I'm Heather, a married mama of two teen girls, a stillborn baby girl (7/1/12), and a sweet and wild preschool girl (4/2/14). I've been blogging at The Destiny Manifest since 2001. I like to write about appreciating all of the beautiful little things that surround us, particularly in the face of grief, infant loss and mental health issues. Every day is an adventure!
Latest posts by Heather O. (see all)